Teach your students about the secrets behind game design and development.
Teach your students about the secrets behind game design and development.
Our team of experts will unravel a journey that teaches the philosophy behind some of the most popular video games to date, from various game developers in the industry.
The Game Creators' Odyssey program offers a deep look into the video game industry. Join us in our theoretical and practical approach to game design and discover the keys to understand the creation of engaging games.
Our program is split into 2 acts. The first one, Rational Game Design, explores the ways games are made, from player skills to game mechanics and atomic parameters, as well as their signs and feedback. The primary objective is to make students understand how innovative mechanics are created, by analyzing and rationalizing different game structures.
The second act, called Rational Level Design, dives into ways of creating immersive game worlds and providing players with enjoyable game experiences. The main objective is to help students understand the creation of games that ensure variety, player's constant motivation and great flow. These will be achieved through multiple design practices and prototyping activities.
Expertise from award-winning game developers
100% online.
Real game production cycles.
Templates and industry tips available for download.
Language: English
Transcripts are easily available.
Full program available in French as well.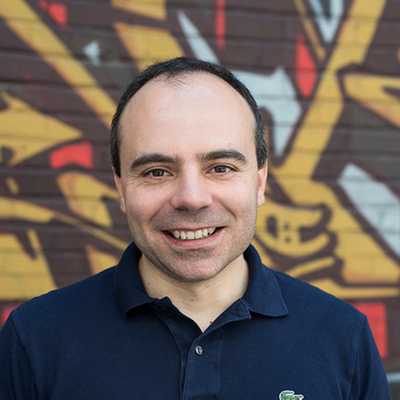 Olivier Palmieri – Director of L'Atelier XR Ubisoft
Game Director at Ubisoft Montreal, Olivier Palmieri is also the official trainer of the Rational Design Methods in the company. Expert in Gameplay, Game Design & Level Design, and Virtual Reality, he provided training programs in game design methods and levels for more than 600 Ubisoft designers already in position.
Olivier has worked on various AAA projects (The Rayman series, Ghost Recon, Assassin's Creed, Far Cry, etc.).  He is the creator of Eagle Flight, the first virtual reality game published by Ubisoft and winner of the D.I.C.E. 2017, award for technical achievement in immersive reality. He has been working in the video game industry since 1998, as a creative director, game director, level design director and international design trainer. His goal is to harness the power of virtual reality to create fun, intuitive and immersive experiences.
Our courses are divided into chapters and missions, each one with their distinct challenges. Completing these will give students experience points, allowing them to unlock exclusive content and level-up in the Leaderboard. At the same time, progressing through the course will reveal different parts of a fantasy story, which will set up the stage for the whole course universe.
Minimum language proficiency: Conversational level in English or French.
Interest in video game development.
A course certificate bearing Ubisoft's and your institution's logos will be awarded to the students upon the completion of each Act.
Students in our program can jump-start their career on the following potential paths:
Game Design
Level Design
Game Development
Game Design Research
Game Studies
User Experience Design